AVAILABLE NOW
SILVER MEDAL WINNER - E-Lit Book Awards - 2019
SILVER MEDAL WINNER - Readers Favorite - 2019
WINNER - International Book Awards, American Book Festival - 2019
FINALIST - Silver Falchion Killer Nashville Award - 2019
DISTINGUISHED FAVORITE - Independent Press Awards - 2019
5 STAR REVIEW READERS FAVORITE - 2019

What did it mean to be a hero in 1944? What does it mean today? On the 75th anniversary of the invasion of Normandy, these are the questions we ask ourselves as the world faces resurgent nativism, deep social divisions, and rising xenophobia. It's no exaggeration to say that the gravity of our crises today echoes back to the crossroads of 1944.
In Finding St. Lo, presents two, distinct voices from the past. The authors are Gordon Cross and Robert Fowler: a medic and sergeant who both served in the 134th US Army Regiment during World War II. In their mobilization, Cross and Fowler witnessed horrific destruction alongside compelling heroism. Their firsthand accounts are joined here by essays written by Fowler's grandson, Ted Neill. Neill explores the scars of war left by his grandfather's post-traumatic stress and its effects across three generations of family. Through Neill's reflections, three stories weave into one.
The voices of soldiers, family members, and trauma specialists come together in prose that is readable and relatable. The photography of Gordon Cross, published here for the first time, provides an unparalleled window into the scenes of devastation and loss. But Cross also captures the stirrings of recovery and the foundations of a post-war peace that benefited billions—a peace that may endure, if we can be good stewards.
Finding St. Lo examines a time in US history that was a crucible for the identity of a generation and the destiny of a nation. These stories and photos demonstrate, without question, that the values of self-sacrifice, community, courage and compassion that steered a generation in 1944, can still serve us, and save us, today.
Gordon E. Cross - Medic in the 134th Infantry Regiment
Gordon C. Cross was born February 21 1906. Entering the army at 38 and trained as an X-ray technician, he felt secure that he'd be attached to some sort of field hospital far from the front. Such was not to be the case. He wrote this diary on scraps of paper stuffed into his helmet. A singer in New York prior to entering the service, post war, he returned to this career. A decade and a half later he, along with his brother Glenn Cross, became two of the twenty-five men who made up the chorus for the popular early 60s television show Sing Along with Mitch. Although, like many veterans Gordon experienced nightmares for years after the war, he enjoyed his work and his retirement in the beautiful countryside surrounding his East Haddam home in Connecticut. He passed away in 1973. He is survived by his daughter, Carol Cross, and son, Bill Cross, as well as two granddaughters, Kelly Cross and Katelyn Cross.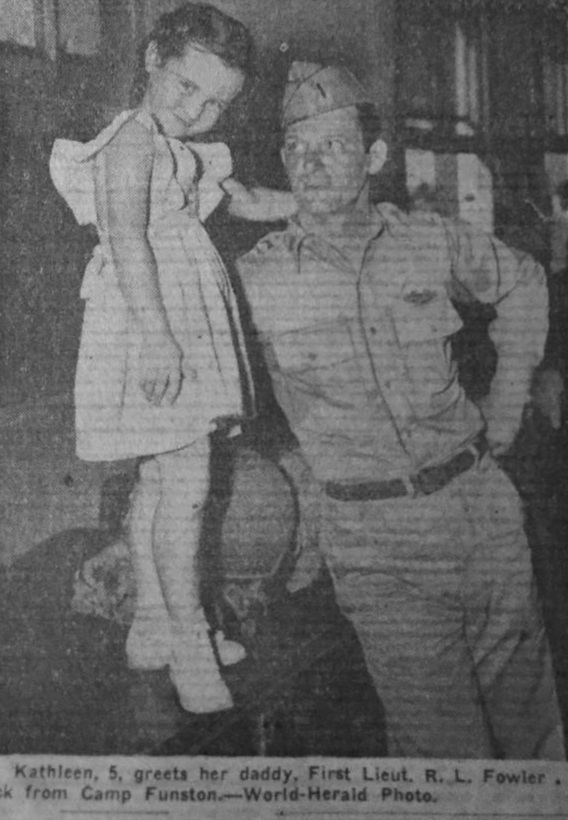 Robert L. Fowler
-
Sergeant in the 134th Infantry Regiment
Robert "Bob" Fowler was born on April 24, 1921, in Tarkio, Missouri. His family moved to Omaha, Nebraska, in 1934. He joined the National Guard at age 16, despite the requirement to be 18. Bob married Evelyn Jamison in 1941 after his unit was mobilized to fight in France. He landed on Omaha Beach on July 2nd, 1944 and served during intense, active engagement of the enemy in and around St. Lo, France until he was wounded on July 27th. He served in the 134th Regiment and served for 18 more years. He received a Bronze Star for his courage in battle at St. Lo and a Purple Heart for his injuries. The bullet he was shot with was never removed and he carried it in his hip the rest of his life. He and his wife had eight children, five girls and three boys. He was also proud of his fourteen grandchildren and was able to meet all of them before he passed in 2006. He is survived by his five daughters, fourteen grandchildren, and twelve great-grandchildren. In 2018 the Nebraska National Guard named an annual award for outstanding non-commissioned officers after him.